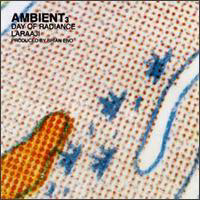 The titles says it all. Episode 3 of Eno's ambient series, this time in collaboration with Laraaji, whom you may already know of a track he contributed to A Brief History of Ambient: Volume 1. Rather excentric and not ambient in the sense as you might expect it, as it features very little electronics.
Wikiquote:
"Laraaji uses a variety of acoustic stringed instruments such as a hammered dulcimer and 36-stringed open-tuned zither.

The first three tracks are variations on a theme named "The Dance", and are delivered in a fast, hypnotic, Gamelan-like, rhythmic pace on a hammered dulcimer. Eno's input is not only in the role of producer; he also adds many creative touches to the natural instrument-sounds. In particular, he "layers" the tracks, after which he applies phasing, reverberation/delay effects and graphic EQ to the point at which the dulcimer almost sounds like other instruments."
Expect minimalistic movements but broad views.
Not my upload, credits go to John Doe.
Evoke.